Funeral of Pte Conrad Lewis after Afghanistan shooting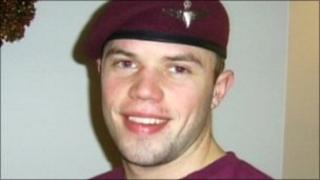 The funeral of a soldier shot dead in Afghanistan has been taking place.
Pte Conrad Lewis, of 4th Battalion The Parachute Regiment, was shot along with a colleague patrolling an area in the Nad-e Ali district of Helmand province.
The 22-year-old, was born in Bournemouth but lived in Warwickshire. He died on 9 February and his body was repatriated a week later.
His funeral, with full military honours, was held at the Collegiate Church of St Mary, in Warwick.
A private family reception was held afterwards.
Pte Lewis's father, Tony, from Claverdon, has described him as "an outstanding young man" who made "an impact with just about everybody he connected with".
Speaking after the repatriation, Mr Lewis said: "I think people need to recognise what these guys are actually doing out there.
"They all do it voluntarily, but I'd ask you to consider what it must be like facing that fear every day, fearlessly and with great courage."
The funeral of Pte Lewis Hendry, from Norfolk, 20, who was killed alongside Pte Lewis, took place on Wednesday.