Spitfire's 75th anniversary celebrated at RAF Cosford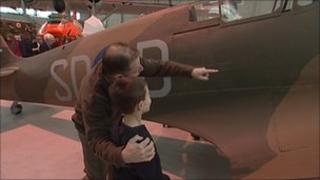 The Royal Air Force Museum in Cosford has been welcoming visitors to celebrate the 75th anniversary of the Supermarine Spitfire's maiden flight.
It was designed by Reginald Mitchell from Stoke-on-Trent and was the only Allied fighter plane in constant production in World War II.
The museum in Shifnal, Shropshire, is home to the world's oldest Spitfire.
A commemorative fly-by was scheduled over the museum on Saturday but had to be cancelled because of the weather.
'Too dainty'
Mark Harris from Supermarine Aero Engineering in Burslem, Stoke-on-Trent, said the Spitfire was "revolutionary" and had been influenced by the designer's experience of racing seaplanes in the 1920s and 30s.
"It was a fantastic airplane to have underneath you when you were trying to take on the might of the Luftwaffe," added Mr Harris, who supplies parts for Spitfires still in service.
Contemporary adverts and press releases for the Spitfire had initially suggested that it was not suited to being an RAF fighter plane, he said.
"It was regarded as being too dainty for the rigours of RAF life.
"Before the Battle of Britain and before the war proper broke out, the Spitfire was regarded as being a little bit of a stop-gap, but as soon as it had the opportunity to prove itself in combat everybody completely changed their mind."
The Air Ministry placed its first order for 300 Spitfires although Supermarine Aviation Works subsequently went on to make 22,000 of them, he added.