Portable toilets installed in Bishop Auckland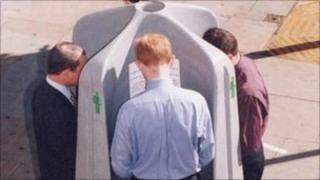 Portable toilets are to be installed in a County Durham market town for the benefit of revellers, and to keep the place more clean.
The urinals will be installed in Bishop Auckland town centre on Friday and Saturday nights then emptied and cleaned the following morning.
It is hoped people visiting pubs and bars in the market place will use them.
The project, costing £6,500, will continue indefinitely and its success will be monitored.
It has been supported by the Bishop Auckland and Shildon Area Action Partnership (AAP), one of 14 set up by the county council in 2009 as a way of engaging with members of the public.
Michelle Armstrong, chair of the AAP board, said: "We hope that by encouraging visitors who come to the town to enjoy a drink on a Friday and Saturday evening to use the portable urinals we will cut down on the amount of effort that is put into cleaning the area on a Saturday and Sunday morning.
"People queue for taxis in the area so it's convenient to use the urinals rather than having to go back inside one of the many pubs and bars to use the facilities."