Firm fined after women hurt by St Neots Christmas decorations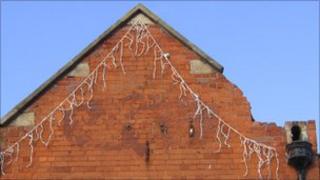 A building firm has admitted liability for the collapse of Christmas lights in a Cambridgeshire town which injured two women and narrowly missed a baby.
Buckinghamshire based Broadlands (Builders) pleaded guilty to breaches of the Health and Safety at Work Act.
The High Wycombe firm installed bolts that failed to support decorations spanning the High Street in St Neots.
The firm was fined £12,000 and told Huntingdon Magistrates' Court it had changed procedures and retrained staff.
Broadlands installed anchor bolts to secure festive decorations at several locations around the town centre.
On 29 November 2007 the weight of the decorations pulled out a large piece of masonry from near the top of a building housing the Norwich and Peterborough Building Society.
This caused the decorations, fixing and masonry to fall to the pavement below.
A passing car was hit by the masonry and the metal frame.
Broken ribs
Elena Giddens, who was 39 at the time of the incident and formerly of Eynesbury Manor, was knocked unconscious when masonry landed on her.
She had five stitches to her head and suffered three broken ribs and a punctured lung.
Her friend, Anne Beck, then 35 and also of Eynesbury Manor, had been pushing her seven-month-old son, Myles, in his pram along the High Street.
The court was told she dived on top of the pram to protect Myles before she and Mrs Giddens pushed the pram away from the falling debris.
She sustained three broken fingers and bruising to her arm, hand and back.
Health and Safety Executive investigators found that the heavy decorations were fixed into an unsafe part of the building.
Director apologised
"The mortar was also known to be weak, and no survey had been carried out," Paul Hoskins, from the Health and Safety Executive, told the court.
"Such a survey may have identified the poor choice of fixing location."
Broadland director John Fifield, pleaded guilty to breaching the Health and Safety at Work Act 1974 and his company was fined £12,000 and ordered to pay £4,250 costs.
He also apologised to the people injured..
He said that since the incident, the company had undertaken further staff training and was now a member of the relevant trade association.
Mr Hoskins said later: "Incidents like this are entirely preventable as guidance on suitable and safe locations for this type of fixing is freely available.
"Contractors should ensure that they are competent to carry out work and ensure that they have access to relevant, up to date information and guidance."