BAE Systems says 450 staff face compulsory redundancy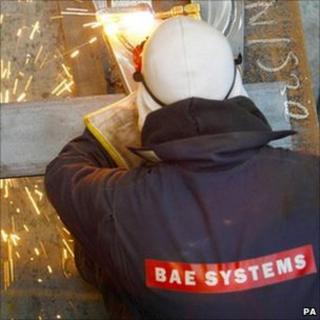 Defence giant BAE Systems is set to make about 450 workers compulsorily redundant at several military sites in the UK due to cuts in defence spending.
The company announced late last year a total of 2,447 potential job losses.
After a 90-day consultation, BAE said almost 2,000 of those workers would leave voluntarily or be relocated.
The other 450 will go from sites at Woodford, Cheshire; Brough, East Yorks; Farnborough, Hants; RAF Kinloss in Moray and RAF Cottesmore in Rutland.
BAE said it could not confirm how many compulsory redundancies there would be at each of those sites because it was still trying to find other ways of shedding the posts.
However, it stressed there would be no compulsory redundancies at Warton and Samlesbury, both in Lancashire, Chadderton, Greater Manchester and Yeovil, Somerset.
Last autumn's Spending Review included plans to cut defence spending by 8% over four years.
Nimrod surveillance planes and Harrier fighter jets - both of which BAE worked on - are being axed.
News of the compulsory redundancies has angered trade union leaders representing the BAE workforce.
Unite national officer Ian Waddell said: "The blame for these job losses lies firmly at the door of Defence Secretary Liam Fox and the rest of the Tory-led government."
He added that "short-sighted, financially-driven decisions" taken in the review were "illustrated by the reality of hundreds of highly skilled, economically valuable men and women losing their jobs".
"BAE Systems has done everything possible to avoid sacking people, but the enormity of these cuts is such that compulsory redundancies are now inevitable.
"There is a serious capability gap which the UK's armed forces now face, proving that there was nothing strategic about the review."
Mr Waddell called for the defence review to be reopened and argued that any review should be seen in the light of the impact on the whole UK economy.
A Ministry of Defence spokesman said: "As part of the strategic defence and security review (SDSR), difficult decisions had to be made to tackle the deficit and reconfigure our armed forces for the future while ensuring that operations in Afghanistan are fully equipped and resourced.
"We are continuing to develop and refine our SDSR implementation plans but the SDSR will not be reopened."