Suffolk double shooting police seek white van driver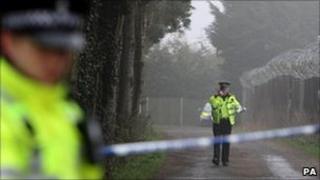 Police investigating a double fatal shooting at a Suffolk travellers' site are trying to trace a white van driver.
Police previously set up check points around the Willow Park site at Beck Row and spoke to 500 people.
The bodies of David Castell, 29, and Shane Hill, 20, who both lived in Essex were found on Tuesday 15 March following the sound of gunshots.
Provisional post-mortem examination results showed both men died from gunshot wounds.
Officers are looking for the driver of a white van which was seen speeding away along the A1101 towards Mildenhall shortly before 2230 GMT on Tuesday.
Armed police patrols
Det Supt Julian Gregory said: "At this stage, we don't know whether the van is linked to the shootings or if it is unrelated.
"So we are looking to trace and identify the driver in order to eliminate them from our investigation.
"We would urge the driver, anyone who saw it or anyone who knows about it to step forward and contact us."
During the evening of Tuesday 22 and the morning of Wednesday 23 March, officers conducted stop-checks on vehicles and pedestrians speaking to nearly 500 people.
Det Supt Gregory said: "We have found the results from the questionnaires and conversations very useful and further lines of enquiry have now been identified."
The travellers site and surrounding area is still being search.
A number of firearms have been recovered but it is yet uncertain whether they are connected to the murders and armed police continue to patrol the area.
Two men, aged 38 and 28 and from the Mildenhall area, are on police bail until April and May after having been arrested in connection with these murders.
Anyone with information is urged to contact detectives from Norfolk and Suffolk Police's Major Investigation Team.