Four newcomers win arts funding in eastern England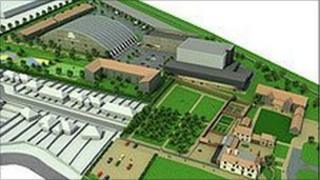 An orchestra, two theatres and artistic skills developer are to be funded by Arts Council England in the East.
Organisations in the East funded from 2012 to 2015, out of a £40.5m budget, have been cut back from 34 to 30.
Newcomers include the Academy of Ancient Music in Cambridge, a period instrument orchestra, and the Gecko Physical Theatre in Ipswich.
HighTide Festival Theatre in Suffolk and the National Skills Academy in Essex have also received new funding.
HighTide helps to develop and produces new theatre writing and the National Skills Academy at Thurrock near Royal Opera House's new base opens new entry routes into the arts workforce.
Funding will also go to the Norfolk and Norwich Festival.
Tough decisions
The Royal Opera House, through its Thurrock education department, will also play a key role in coordinating year-round opportunities for children and young people, the Arts Council said.
Money will continue to be awarded through Lottery-funded grants for the arts and other programmes to be announced later in the year.
Jon Cook, chair of the eastern regional council, said: "We've had to make difficult decisions in a tough climate.
"But with our goals as our guiding principles, we believe we have funded a portfolio of organisations for the East of England that is innovative, exciting and collaborative."
In Suffolk DanceEast, Aldeburgh Music, Eastern Angles, Gecko Theatre, High Tide Festival, New Wolsey Theatre and the Theatre Royal in Bury St Edmunds will also receive funding.
In Northamptonshire, the Core at Corby Cube has won funding for the first time.