New 10-mile pipeline across Essex to boost water supply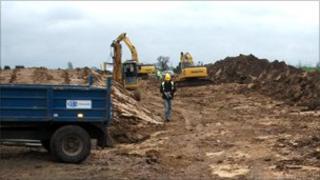 A new 10-mile long (16km) steel pipeline is being built across Essex to transfer water extracted from a river to a reservoir.
Essex and Suffolk Water said a pipeline from the River Stour at Wormingford to Abberton Reservoir near Colchester is needed to supply 1.5 million residents.
The 4ft (1.2m ) diameter steel underground pipeline will take 12 months to complete.
It is part of a £150m scheme to expand Abberton Reservoir storage by 58%.
The scheme due for completion in 2014 will enable Essex and Suffolk Water to maximise storage of water from the River Stour when flows are high, usually during the winter.
Brian Olley, from Essex and Suffolk Water, said: "This major pipeline will help ensure that Essex has a reliable supply of water now and for many years to come.
"There has been nearly two decades of investigation, planning and consultation into the Abberton scheme."