Man's ultra-marathon record bid reaches Hove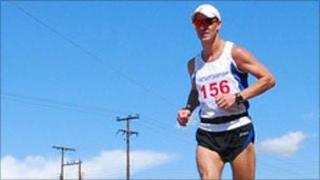 A man who is trying to run 66 ultra-marathons in 66 days to raise funds for charity has continued his Guinness World Record bid in Brighton and Hove.
Andy McMenemy took part in his 18th 50km (31 mile) run at Hove Park on Saturday.
He completed his run at the Canterbury Athletics track on Friday in about six hours and 40 minutes.
A spokesman for Mr McMenemy said the Kent and Sussex legs of his bid had gone well.
He aims to complete one ultra-marathon in each of the UK's 66 cities for The Soldiers' Charity, which supports armed forces personnel.
Mr McMenemy, who is the son of a former soldier, has raised about £18,000 of his £1m target so far.
A conventional marathon is just over 26 miles (42km). The current world record is 52 ultra-marathons in 52 days.