Surrey and Sussex NHS in apology over A&E trolley wait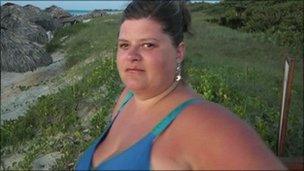 NHS chiefs have apologised after a man complained his wife was left on a trolley at East Surrey Hospital in Redhill for 17 hours.
Bob Brown, from Crawley, Sussex, said his wife Kathy went to A&E on Sunday evening after an epileptic seizure.
He said she was seen within the hospital's target of four hours but was not moved to a ward until just before 1530 BST on Monday.
The NHS trust apologised and said it was not the expected level of service.
A statement from Surrey and Sussex Healthcare NHS Trust said: "We're very sorry that Mr Brown's wife was kept waiting in our A&E department. This is not the level of service we expect our patients to receive.
"We are undertaking a programme of work to improve the quality of service we provide to patients who attend with emergency care needs.
"There has been a sustained high demand for emergency beds which has resulted in some patients waiting far too long to leave A&E and be admitted to a ward."
Chief executive Michael Wilson had met GPs to discuss high levels of emergency patients coming to the hospital, the statement added.
It also said 25% of people who go to A&E could be treated elsewhere.
But Mr Brown said: "East Surrey Hospital is a disgrace to the NHS."
He said the couple arrived at the hospital at about 2230 BST on Sunday and his wife was first seen in a side room.
At 0200 BST on Monday, a doctor agreed she should be admitted, Mr Brown added.
He said he left at 0400 BST to get his two children ready for school and returned at 1130 BST to find his wife was still on a trolley in A&E.
He said: "It took until just before 1530 BST until she was finally moved to a ward.
"This was after having spent nearly 17 hours in the A&E department on a trolley with all the noise and discomfort this brings."
Mr Brown has called on the trust to provide more staff in A&E, re-open closed emergency departments such as one that shut in 2004 at Crawley Hospital, and expand other hospitals.
Related Internet Links
The BBC is not responsible for the content of external sites.