Concern as 'devoted dad' Gary Hampson missing for months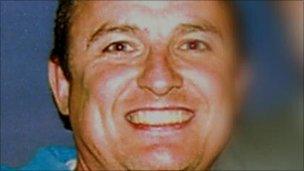 Concern has been expressed for a man who has not been seen since he picked his daughter up from her Brighton school and took her home in January.
Police said Gary Hampson, of Portslade, was a "devoted dad who saw his daughter three times a week without fail".
The 42-year-old was last seen on 6 January, when he dropped off his daughter, whom he did not live with.
He said he was going to Liverpool the next day. Police said his mobile phone has been turned off since 9 January.
Det Ch Insp Jeff Riley, from Sussex Police Major Crime Branch, said it was as if Mr Hampson had "vanished without trace".
"His daughter turned 10 yesterday, yet he made no contact with her," he said.
"For friends and family not to hear anything from him is completely out of character and they are extremely concerned for his safety."
He said police had carried out detailed enquiries and searches of property in Brighton and Hove since his disappearance, and had been speaking to Mr Hampson's friends and associates locally.
"He was a well-liked local character and jointly ran Kop Cars Body Shop in Little Western Street for a number of years," the detective said.
Neighbourhood police officers and detectives were in the area on Wednesday, speaking to residents and business owners in the hope of triggering someone's memory of having seen Mr Hampson.
Det Ch Insp Riley said he had connections to Merseyside, including the St Helen's area, and officers were keen to trace his family there.
He said: "Gary would often drive to Liverpool and despite extensive enquires, we have been unable to establish if his plans to leave Brighton for Liverpool went ahead that Friday, or if something or someone stopped him from making that journey.
"We are in the process of trying to piece together his movements since he said goodbye to his daughter that Thursday afternoon."
Family, friends or acquaintances of Mr Hampson in Liverpool have been urged to contact police as soon as possible.
Mr Hampson is described as white, 5ft 9in tall, of stocky build with blue eyes, short dark brown hair and a Liverpool accent.
Related Internet Links
The BBC is not responsible for the content of external sites.