Stowe school porter cleared of poisoning soup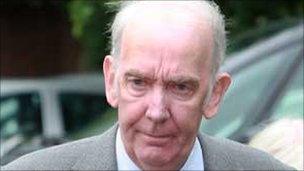 A kitchen porter at a public school in Buckinghamshire has been cleared of pouring drain cleaner into pupils' soup.
Maxwell Cook, 58, of Northamptonshire, had denied a charge of administering poison at Stowe School in March 2010.
A jury at Aylesbury Crown Court took two and a half hours to find him not guilty following a two-day trial.
Trainee chef Louise Samples, 21, had claimed she had seen him put the substance in the soup.
Mr Cook said he had walked past the soup but merely looked at the food.
About 100 pupils and staff at the £27,000-a-year school could have eaten the soup if it had been served, the court had been told.
But the presence of the noxious substance - similar to thick bleach - was detected during a routine tasting, the jury heard.
Mr Cook, of Syresham, slumped back in his seat with a look of relief as the verdict was read out.
Stowe alumni include business tycoon Sir Richard Branson and jazz great George Melly.
Speaking after the hearing, Det Insp Russ Murden of Thames Valley Police said: "I am satisfied with the court's verdict and do not envisage reinvestigating this incident.
"I would like to thank both Stowe School and all witnesses for their assistance during this investigation."
Related Internet Links
The BBC is not responsible for the content of external sites.