Norfolk pair convicted of telecoms fraud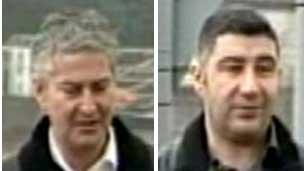 Two men who ran a £1m telecoms fraud, said to be one of the biggest in Britain, have been convicted of conspiracy to defraud customers.
Christopher Boughton Fox, 48, of Yarmouth Road, Norwich, and Jonathan Parrish, 42, of The Hills, Reedham, were convicted at Ipswich Crown Court.
Sentencing was adjourned until 27 April.
It was a scam which conned businesses and schools out of hundreds of thousands of pounds.
Both men had denied conspiracy to defraud between 2003 and 2008.
Smooth-talking salesmen from Great Yarmouth-based Business Telecom Ltd would persuade customers to sign contracts for new telephone systems, the court heard.
The patter would follow a similar pattern. Customers were cold-called and thought they were talking to the business arm of British Telecom.
They were told their analogue phones were defunct, but a cash-back scheme meant the replacements would be free.
In fact, the businesses were signing up for expensive leasing agreements over seven or more years. And the true cost of the purchase ran to £10,000 to £30,000.
The leasing agreements were then sold on to third parties who are still taking payments against the contracts.
The 10-week trial at Ipswich Crown Court heard Business Telecom had grown from a small home-run company to have a turnover of £4.5m.
Boughton-Fox, the company's managing director, had an annual salary of £600,000.
His sales director Parrish could earn up to £40,000 a month. He was twice named salesman of the year by the company.
He told the court he was so confident of his own abilities that he did not have to lie to get new business.
It was the biggest investigation carried out by Norfolk Trading Standards and two previous trials had been halted.
The scam was first revealed by BBC Inside Out East three years ago.
Among the many victims was Norfolk charity, Musical Keys, which runs therapy sessions for disabled children.
Sallie Eastwick, from the charity, said the organisation was persuaded the new phone system would be free. But it was a lie and they are still paying £3,000 a year for equipment which is valued at about £300.
She said: "It's money we are having to pay out annually on a seven-year contract.
"It's a large amount of money and it's taking money out of our budget that we want to use directly with the kids. Every penny we get we have to work very hard for."
Stephen Darby, who runs a rosette-making business from his home, was told his phones needed upgrading. The leasing agreement cost him £37,000.
"We don't make that sort of money to pay for that. Our turnover is only £14,500," he said.
About 40 schools in Norfolk, Suffolk, Essex and Kent, were also conned, among them Combs Ford Primary, West Row, and Rattlesden Primary School.
David Collinson, head of public protection at Norfolk County Council, said the fraud was widespread.
"These individuals knowingly conspired together over a number of years to defraud small businesses, voluntary organisations and schools in Norfolk and across the region," he said.
"These lies were extremely profitable for the business and for these individuals, with the total value of the leases sold via fraudulent misrepresentations exceeding well over £1m."
Related Internet Links
The BBC is not responsible for the content of external sites.