Grant to aid hen harrier survival in northern England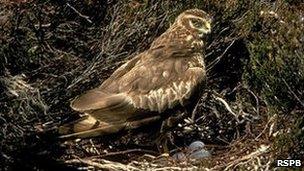 Lottery money will help fund a project aimed at preserving one of England's most endangered birds of prey.
The grant of £317,000 has been awarded to the RSPB from the Heritage Lottery Fund (HLF) to protect and conserve nesting hen harriers.
During the four-year Skydancers project, volunteers will protect and monitor existing breeding sites in Northumberland, Cumbria and Lancashire.
Last year there were only only seven successful nesting attempts in England.
Hen harriers are best known for their aerobatic spring courtship displays, known as skydancing.
Their numbers have been reduced by illegal persecution, and disturbance to their nesting habitat, which is often in areas managed for grouse shooting.
As well as conservation work, the Skydancers project will deliver a programme of community activities.
It will also work with local stakeholders such as land managers to enable a greater understanding of issues surrounding hen harriers.
Amanda Miller, the RSPB's Conservation Manager for Northern England, said: "It is fantastic that the Heritage Lottery Fund has stepped up for nature and given us the opportunity to build a greater awareness of this magnificent bird of prey and our wonderful British uplands."
Ivor Crowther, head of the Heritage Lottery Fund in the North East, said: "We are delighted to be able to support this project which will see these fascinating and rare birds put back on the map."
Related Internet Links
The BBC is not responsible for the content of external sites.