Fake Jacob's Creek wine seized in off licences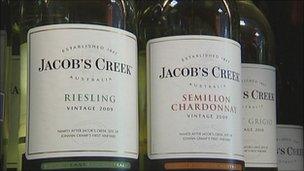 Hundreds of fake bottles of best-selling Australian wine Jacob's Creek have been seized by trading standards officers in England and Wales.
More than 80 bottles of the imitation Jacob's Creek have been found in off-licences in Brighton and Hove alone.
More have been seized in Surrey, Reading, London and Cardiff.
Brand owner Pernod Ricard UK launched an investigation after complaints from customers about the quality of wine masquerading as Jacob's Creek.
Spokesman Simon Thomas said: "This counterfeit product is of very low quality and substandard taste.
"Tests indicate the content is not harmful but anyone with doubts concerning the authenticity should not consume it."
The fake £10 wine is believed to be from China and is being sold to independent off-licences and shops for as little as £2.
The bottles appear identical to the real thing, apart from a tell-tale misspelling on the label on the back, where Australia is spelt Austrlia.
The first counterfeits were found in Brighton in February.
Brighton and Hove trading standards officer Katrina McBeth said off-licence owners did not appear to know the bottles were fake.
"It has taken them by surprise as much as it has us," she said.
"It is the first time that anybody is aware of such a well-known brand being counterfeited so it was a great shock to everybody involved.
"It is affecting the producer of Jacob's Creek, and it also has an effect on legitimate businesses who are operating within the law.
"Consumers are paying for something they are not getting and also the duty is not being paid so there is an impact to the community at large."
She said anyone concerned about wine they believed to be fake should contact Consumer Direct with details of the shop where it was bought.
Related Internet Links
The BBC is not responsible for the content of external sites.