Jodrell Bank unveils £3m discovery centre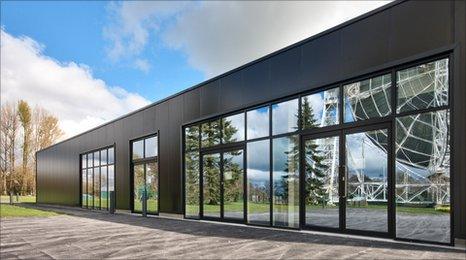 Jodrell Bank has unveiled a brand new £3m discovery centre at its base in Cheshire.
Home to the Lovell telescope, the observatory attracts tens of thousands of visitors each year.
Jodrell Bank said the centre would help people to learn more about the Universe and the work done by its astronomers.
The site was recently shortlisted for World Heritage status and chosen as headquarters for the world's biggest telescope, the Square Kilometre Array.
The Jodrell Bank Centre for Astrophysics is the astronomical research centre of the University of Manchester.
Director of the discovery centre, Dr Teresa Anderson, said its aim was to educate visitors about the live science carried out by the Jodrell Bank team.
"When people come, they want to know what the telescope is doing, what the scientists are doing so we've structured everything to the questions that people ask," she said.
Dr Anderson added that the centre would be much more "hands on".
"You will be able to touch a piece of rock that's come from outer space," she said.
"It's 4.5 billion years old and it fell to Earth 4,000 years ago."
The centre comprises a Planet Pavilion which includes a glass-walled cafe overlooking the Lovell Telescope and a Space Pavilion for events and exhibitions.
The project was funded with £1.9m from the North West Development Agency (NWDA) and £1m European Regional Development Fund (ERDF).
An additional £600,000 has been pledged by the University of Manchester.
Nick Brook-Sykes, NWDA's Director of Tourism, said: "Jodrell Bank is already an icon in the North West and a visitor attraction in its own right, but it has the potential to attract many more national and international visitors to the region.
"This investment will help create a richer, more inspiring visitor experience which is more fitting to this beacon of science and research."
The new facility replaces Jodrell Bank's original visitor centre which was demolished in 2003.
The Jodrell Bank Discovery Centre opens to the public on Monday 11 April.
Related Internet Links
The BBC is not responsible for the content of external sites.