Blackburn Rovers fan John Taylor's death 'misadventure'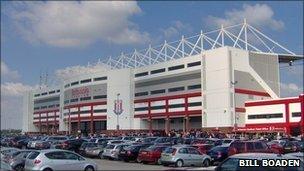 The death of a Blackburn Rovers fan who was struck with a bin at Stoke City's ground was the result of misadventure, a coroner has ruled.
John Taylor, 30, of Avallon Way in Darwen, Lancashire, collapsed in the South Stand of the Britannia Stadium on 6 February last year.
The father-of-one died from head injuries the following day.
A 25-year-old man, from Preston, was arrested at the time but no further action was taken against him.
The three-day inquest was heard at Hanley Town Hall last month. Stoke-on-Trent and North Staffordshire coroner Ian Smith gave his verdict earlier.
Witnesses said Mr Taylor, a life-long Blackburn Rovers fan, had "headed" the 25lb bin - claims that were disputed by his family.
The coroner said he had ruled out a verdict of unlawful killing because there was no criminal intent in the incident and no-one had intended an outcome of death.
Speaking after the hearing, Mr Taylor's mother Susan said she believed not enough had been done to protect her son and other fans.
She said his death had destroyed her family and that she hoped "karma comes around".
Stoke City's chief executive Tony Scholes said: "The death of John Taylor was a terrible tragedy and our thoughts remain with his family.
"This was an unforeseen and unprecedented incident, the like of which has certainly never been seen in Stoke before.
"We have an excellent safety record in line with all clubs in the Premier League, one which is closely regulated by the authorities and one constantly under review to ensure that we provide the safest possible environment for visitors.
"Despite all of that, it is extremely difficult to legislate for all circumstances.
"What we must all do, however, is use the knowledge of what happened in this instance to try to prevent an incident like this ever happening again."
Related Internet Links
The BBC is not responsible for the content of external sites.