Midland News Association starts redundancy consultation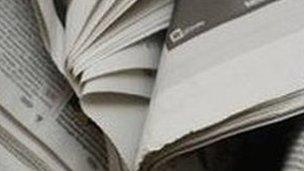 The Midland News Association, publishers of the Express & Star and Shropshire Star, have entered into redundancy consultations with staff.
Meetings have been held with members of the staff councils at both newspapers and letters have gone out to employees.
One staff member, who did not wish to be named, said staff had been told the company was looking to shed about 10% of its workforce.
They said managers had refused to rule out compulsory redundancies.
Consultations will take place over the next month.
MNA managing director Alan Harris said: "Like every other newspaper publisher, the MNA is facing very difficult trading conditions and there seems to be no sign of improvement.
"If we are to continue to invest for the future in our publications, both in print and online, then we must make some cost savings.
"The board fully understand that this is a very difficult time for all staff and we are doing our very best to keep everybody informed of what is happening."
Chris Morley, NUJ Northern and Midlands organiser, said staff had been told about 90 jobs could go.
He said: "We are obviously extremely dismayed by this because the one thing that's so important in a newspaper as large as the Express & Star is to have quality and to have quality you've got to have a standard of news people want to read.
"You need good quality journalists and you need enough of them to provide that service."
He said he would be "extremely concerned" if any of the cuts were to editorial positions.
The Wolverhampton-based Express & Star is the UK's biggest-selling regional daily.
Alongside the two daily titles, The MNA publishes a number of free and paid for weekly newspapers across the West Midlands, Shropshire and Mid Wales.
It has recently launched a new paid for service for online and mobile phone users.
In March the company launched a new free weekly newspaper called the Oswestry and Border Chronicle.
Related Internet Links
The BBC is not responsible for the content of external sites.