Etihad plane bomb hoax man James Glen jailed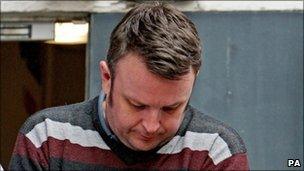 A man has been jailed for three years after admitting a hoax that triggered a bomb scare on an airliner heading to Britain from the Middle East.
James Glen, 38, admitted communicating information about a bomb hoax on an Etihad Airways flight heading from Abu Dhabi to Heathrow on 24 January.
Chelmsford Crown Court heard he told a flight attendant a passenger had a gun and had threatened to blow himself up.
The plane was redirected to Stansted Airport and under RAF fighter escort.
The jets accompanied the plane, which was carrying 163 passengers and 15 crew, into the Essex airport.
It was flying on the day that 35 people died in a suicide bomb attack at Moscow's busiest airport.
Glen had been living in Australia for 18 years and was returning to the UK to start a job working on rally cars in Chard, Somerset.
Duncan Penny, representing Glen, said his client had a history of depression and had consumed alcohol and taken an anti-histamine drug.
Mr Penny said Glen was on his first flight in 20 years, had expressed a fear of flying and was tired.
After the hearing, Ch Ins Graham Stubbs said: "Although this was probably a one-off act of drunken stupidity, Mr Glen's actions caused a large number of people a great deal of anxiety and inconvenience, as well as wasting a considerable amount of public and private money.
"I now hope that anyone who thinks about making a joke around issues of security within the aviation arena reflects carefully upon the fate of Mr Glen, before doing something they subsequently regret."
Olivia Gooding, for the Crown Prosecution Service, said Glen was clearly drunk but continued to repeat his allegations.
She said: "It is fortunate that the matter was contained by the airline otherwise there would have undoubtedly been a panic situation.
"He had no thought or regard for anyone that was affected by his outrageous statements...he gave the airline no option but to act on these alleged threats.
"Only Glen knows the reasons behind his behaviour."
Related Internet Links
The BBC is not responsible for the content of external sites.