Chester Zoo's £30m islands plan announced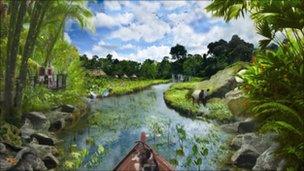 Chester Zoo has announced plans for a £30m project which will see visitors sailing between islands to see animals such as orangutans, tigers and bears.
The Islands development will offer a boat ride where people can see some of the zoo's key animal species.
It is set to be built to the south west of the zoo, which already attracts 1.3 million visitors each year.
Work on the project is expected to start in 2012 and take 18 months to complete.
The development will include educational exhibits, play areas and restaurants.
A spokesman for the zoo said it will showcase some of the conservation programmes it is involved in in Sumatra, Madagascar, the Mascarene Islands, the Philippines and Indonesia.
'World-class development'
It will be the first phase of the Natural Vision development.
The Heart of Africa biodome, which was due to be the first phase, has been postponed due to government funding cuts.
Islands will include some of the zoo's key animal species, including Sumatran orangutans, Malayan tapir, various lemurs, Sumatran and Philippine crocodiles, Komodo Dragons and other birds, reptiles and invertebrates.
Dr Mark Pilgrim, Chester Zoo's Director General, said: "Being isolated means that islands often contain wonderfully unique yet highly threatened wildlife.
"The diversity and individual character of islands makes them exciting places to explore. Islands will be a world-class development of the south west side of the zoo that will create an unparalleled visitor experience."
"Islands will also gives us a great opportunity to showcase our conservation programmes and activities in Sumatra, Madagascar, Mascarenes, Philippines and Indonesia where we have a real impact on conserving nature."
Related Internet Links
The BBC is not responsible for the content of external sites.