Court of Appeal rejects 'hit-and-run' deportation bid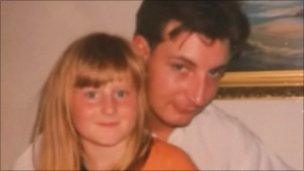 A government bid to deport a failed asylum seeker who killed a 12-year-old girl in a hit-and-run in Lancashire has been rejected by the Court of Appeal.
Aso Mohammed Ibrahim, an Iraqi Kurd who was banned from driving, left Amy Houston dying under the wheels of his car in Blackburn in 2003.
The 33-year-old was jailed for four months but allowed to remain in the UK, with his family, on his release.
Judges refused an application to appeal against that decision.
It follows a failed appeal by the UK Border Agency, backed by Amy's father Paul, to two immigration judges last year.
Ibrahim was convicted of driving while disqualified and failing to stop after the accident.
He and his wife had two children after his release from prison.
Ibrahim's lawyers have argued human rights laws permit him to stay in the UK, because of his family.
Mr Houston, who had to make the decision to turn off Amy's life support machine after the crash, has campaigned for Ibrahim to be deported.
In refusing permission to appeal, Lord Justice Sullivan and Lord Justice Gross expressed their "greatest sympathy" for Amy's family but said their only task was to decide whether there had been any error of law.
They ruled there had not been any error.
After Lord Justice Sullivan gave his reasons for dismissing the application, Mr Houston asked from the public gallery: "My Lord, what about my right to a family life?"
Mr Houston told reporters after the hearing: "I am still waiting for an answer to the question. What about my rights to family life and Amy's right to life?"
He added: "I'm disappointed with the outcome but I always expected it, to be honest.
"The judges had the opportunity to stand up for the hard-working people of this country, the people who pay their wages, and show the world and the country that the Human Rights Act isn't just about asylum seekers, criminals and terrorists but the average man - but they let me down and didn't do that.
"If there's a problem with the law, the law needs changing and the politicians have to start earning their money.
"If there's a problem with the Human Rights Act, they ought to do something about it."
'Extremely disappointing'
He added: "Me and my daughter are victims in this. If they can't protect the innocent and vulnerable people of society, there's no point in the justice system.
"Maybe there's a possibility of taking the case to the European Court of Human Rights but I'd have to do that personally and it costs a lot of money - money I haven't got."
Immigration Minister Damian Green said after the ruling: "After taking our efforts to remove Mr Ibrahim from the UK to every possible stage of appeal, it is extremely disappointing that we have now been refused permission to have the case heard by the Court of Appeal.
"While we must accept the court's decision, I have every sympathy with Mr Houston, who I know will feel angry and frustrated with this outcome.
"I will be raising the wider issues highlighted by this tragic case with the Justice Secretary for consideration by the commission on UK human rights law which the government will be establishing later this year."
Related Internet Links
The BBC is not responsible for the content of external sites.