Electoral boundary change 'means fewer MPs'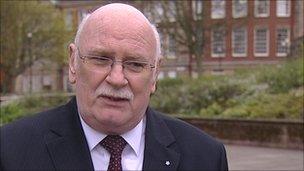 Two MPs could go from the Black Country, two from Staffordshire and one from Herefordshire, when electoral boundaries change, researchers say.
The coalition government has asked the Boundary Commission to redraw voting areas to make constituencies in the United Kingdom more equal in size.
It said the West Midlands region would lose five seats by the next election.
The Democratic Audit research body said the new constituencies could cut across communities.
The Boundary Commission has not confirmed where the seats will be lost from yet.
Neville Patten, a Conservative Wolverhampton city councillor, said: "Last time they altered the boundary we brought in part of Coseley into Bilston and it didn't go down too well with the people of Bilston because Bilston people are very jealous of their heritage and I imagine this is going to reflect across the country."
There are currently 600 MPs in Parliament and 59 MPs representing voters in the West Midlands region.
The changes would see 50 fewer seats in the House of Commons by 2015 at the latest to ensure that all constituencies had between 60,000 and 80,000 voters.
In England, the North West would be the most affected, losing seven seats, with Greater London and the West Midlands being the joint second most affected areas, losing five seats each.
Dr Stuart Wilks-Heeg, executive director of the Democratic Audit, said: "We've already had two boundary reviews in the past 10 years.
"This is a sledgehammer to crack a nut. It would also mean changing the boundaries for every election thereafter."
There are only 47 constituencies out of 533 that do not fall within the stated electorate size range, he added
Because of fluctuations in population the boundaries would probably need to change before each election, to be within 5% of the stated allowable range, he said.
He said: "If you think a constituency link is important for democracy, having these very unstable constituencies is going to undermine that concept."
The Boundary Commission said it took into account how communities felt when redrawing boundaries.
The largest electorate is the Isle of Wight which has 110,924 constituents compared to Na h-Eileanan an Iar in the Outer Hebrides which has just 21,837 constituents.
Related Internet Links
The BBC is not responsible for the content of external sites.