East Midlands Airport expects to advertise 1,000 jobs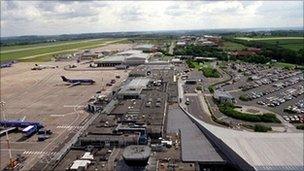 About 1,000 job vacancies are expected to be made available at businesses on the East Midlands Airport site in the next 12 months.
The airport said it would be working with about 100 firms to offer a mixture of permanent and seasonal positions in both passenger and cargo operations.
Earlier in April the airport said it had its busiest 12 months ever for handling cargo.
Last year, about 800 jobs were filled in the airport's employment network.
Bosses said they would be working with Jobcentre Plus to set up a job club to help fill this year's posts at the Castle Donington site.
A large number of companies are based at the airport, including DHL, UPS, Menzies Worldwide Cargo and Royal Mail.
The airport said it was also working with Derby College to establish an apprenticeship scheme for aircraft maintenance engineers.
Related Internet Links
The BBC is not responsible for the content of external sites.