Crime figures on Southern Railway network fall by 7.2%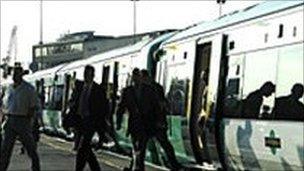 Reported crime on the Southern Railway network fell last year by 7.2%, according to British Transport Police.
In the 12 months to April, overall crime figures fell from 3,492 incidents in 2009/10 to 3,242 in 2010/11.
Crimes including theft, criminal damage and property were 53% of the total with crimes against the person being 14%.
The company provides services between London and the south coast, covering East and West Sussex, Surrey and parts of Kent and Hampshire.
Southern Railway said public order offences, which include anti-social behaviour, counted for 20% of the overall total.
It said the figures for last year were consistent with a downward trend on previous years and represented just one crime committed for every 50,000 journeys made on the network.
Southern Railway said the chances were reduced even further when crimes such as vandalism, trespass, drug and fraud offences were taken into account.
Martin Grier, head of revenue protection and security, said: "We have worked extremely hard alongside British Transport Police to prevent, detect and deal with crime on our network.
"The fall in figures show without doubt that the measures we have in place and the activities of our Safer Travel Teams are really making a difference."
Related Internet Links
The BBC is not responsible for the content of external sites.