Woman dies in fire on Northampton to London train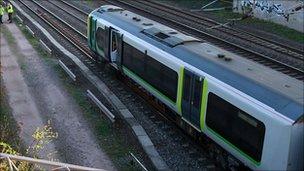 A woman has died after a fire broke out on a rush hour train travelling from Northampton to London.
The blaze is believed to have started in a toilet on the London Midland railways train at about 1705 BST on Monday.
The train stopped at Leighton Buzzard, Bedfordshire, and all passengers were taken off. No-one else was hurt.
It is thought the 43-year-old woman started the fire and intended to kill herself.
Another passenger alerted the conductor to the fire on the service, which had left Northampton at 1625 BST.
A spokeswoman for British Transport Police said: "The deceased woman has injuries consistent with burns.
"No other person is believed to have been involved in the incident and it is not being treated as an accident."
Overhead power lines on the busy West Coast main line were switched off as a precaution as police, firefighters and the ambulance service attended the scene.
Anne Farthing, 49, saw the burning train from her flat which overlooks the track in Leighton Buzzard.
She said: "I looked out of the window and saw thick smoke that was like a fog."
Sheila Smith, 68, said: "The smoke was so thick it got onto your chest. The fire, police and ambulance service were here very quickly."
No trains were able to enter or leave Euston station for a period, but by 1900 BST services were beginning to run again with delays.
London Midland initially put on bus services to replace trains.
West Coast operator Virgin Trains also had its rush-hour services badly disrupted.
The train was still in position just north of Leighton Buzzard station hours after the tragedy. British Transport Police said it would be moved to sidings for a full forensic examination of the scene.
Related Internet Links
The BBC is not responsible for the content of external sites.