Liverpool crane death man's family's 'horrific' loss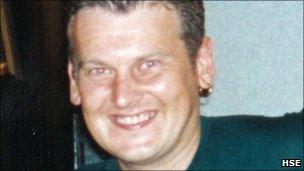 The daughter of a man who was killed when a crane overturned in Liverpool has spoken of the family's "horrific" loss.
Mark Thornton, 46, of Longridge near Preston, was killed at the Wavertree Business Park in March 2007.
Crane operator Frederick Scott, of Ellesmere Port, and Bryn Thomas Crane Hire, from north Wales, were fined at Liverpool Crown Court on Monday.
Mr Thornton's daughter Cheryl said the fines "meant nothing".
Mr Thornton had been helping to construct a new floor on a warehouse when he was crushed by the 50-tonne crane.
Mr Scott and the crane hire firm were fined £2,500 and £4,500 respectively after admitting health and safety breaches.
The case of Siteweld construction was adjourned until 10 June.
Speaking after the hearing on Monday, Miss Thornton said: "Losing our Dad has been absolutely horrific for us.
"Our family is going to have to live forever without our Dad. We are going to miss so many special times with him."
She said she sometimes forgot "for a split second" that her father had died, or she would walk down the street thinking she would bump into him and then remember.
Miss Thornton added: "Fines may have been handed out in court but so what? What do fines do? It doesn't bring justice at all.
"It can't be fixed and it never will be able to be fixed. But it could have been prevented - that is what makes it all the worse."
Related Internet Links
The BBC is not responsible for the content of external sites.