Coalition promises to create jobs in south-west England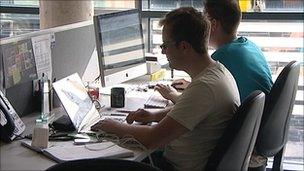 The government is promising to create or safeguard more than 1,200 jobs in the South West.
The University of Plymouth and South Devon College are among some of the UK organisations to get a share of the £450m Regional Growth Fund.
The fund was created in 2010 to replace the nine Regional Development Agencies which were set up by Labour but axed by the coalition.
The successful £1m university bid aims to create at least 50 jobs.
Dr Julian Beer, director of research and enterprise, said: "It can help people from the public sector that want to start their own business, through to existing entrepreneurs that have new business ideas that we can help support."
Labour said the coalition had actually cut funding for regional growth by two thirds, putting many jobs at risk.
But Business Secretary Vince Cable maintains that the government is supporting job creation in the regions and driving growth in local communities.
He told the BBC: "It's targeted at those areas which have got significant deprivation, or which may be hit by cuts and losses in public sector employment.
"It concentrates on projects which bring in a lot of private investment alongside them so, for the £450m, we think that will generate £2.5bn of private sector employment."
Related Internet Links
The BBC is not responsible for the content of external sites.