Norwich cat found 70 miles away in Peterborough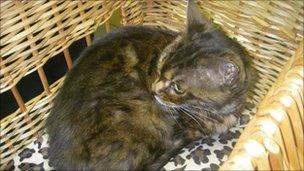 A cat that was missing from its home in Norwich for two weeks has been found safe and well, 70 miles (112km) away.
Four-year-old Essie was last seen by owner Linda Mortimer on 24 March.
Two weeks later she was discovered by staff at a freight facility in Peterborough, Cambridgeshire. They believe she may have stowed away on board a lorry.
Essie was reunited with the Mortimer family after her microchip was scanned by RSPCA officers.
Habitual runaway Essie had disappeared from her home on a number of occasions, but Mrs Mortimer said that the family's other cats "usually find her and bring her home".
"I've had all three of my cats micro-chipped and it has saved Essie twice now," she said.
"I don't think we would have found her this time, otherwise."
RSPCA animal welfare officer Kathy Hornig said she was amazed that Essie had travelled so far and emphasised the importance of micro-chipping pets with their owners' details.
Related Internet Links
The BBC is not responsible for the content of external sites.