Head cams bid to cut Darlington traffic warden abuse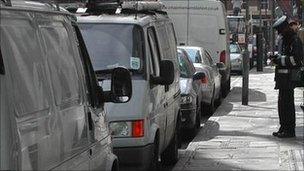 Traffic wardens in Darlington are being given head cameras in a bid to stop them being abused by motorists and members of the public.
The council took over civil parking enforcement from police at the start of the year.
Since then 25 incidents of abuse, mainly verbal, have been recorded, but there are concerns the incidents could escalate into something more serious.
It is hoped the cameras, which will be visible, will have a deterrent effect.
Bill Westland, Darlington Borough Council's head of regulatory services said that since the council took over parking enforcement wardens patrol until late at night.
"Some of the abuse isn't coming from motorists," he said.
"It's from people who might have had a bit of alcohol inside them and just decide they will get involved.
"Our hope is that the head cams, which will be very obvious when they are worn, will be a deterrent.
"It's not our intention that we will need to use them for evidence for the court, though that is a possibility.
"We're hoping they will reduce the problem substantially."
Related Internet Links
The BBC is not responsible for the content of external sites.