David Bookbinder sees the Labour Party as the lesser of all evils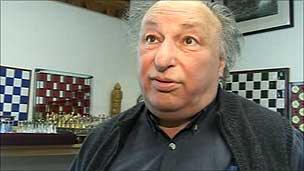 He was one of the most controversial political figures of his day. It's hard to believe that David Bookbinder has been out of front-line politics for almost two decades.
He's now 70, but the mention of his name in some circles - like that of Thatcher, Scargill or Derek Hatton - still provokes sharp differences.
A conviction politician of the left, he became Leader of Derbyshire in 1981.
He gained national prominence through his political battles with a conviction politician of the right, Margaret Thatcher. Then, as now, government spending cuts dominated the agenda. And he's equally forthright in his advice to today's council leaders, as I discovered when we met at his Derby home.
"What I could say to any local government leader is forget the government and its policies," he said.
"Look at your own policies. Don't have the cuts. There are ways of avoiding them. And my advice to the government? Put 5 or 10p on income tax because there are always people who can afford it."
His combative style made him political enemies. His high-profile campaigning against the poll tax angered Mrs Thatcher. But in 1989, it was the issue of China and her government's response to the shootings in Tiananmen Square that provoked the biggest clash. Mrs Thatcher insisted that Derbyshire broke off its twinning links with China's Shanxi province.
"We had 12 students from Shanxi staying in Derbyshire at the time. If we had sent them back as ordered by Downing Street, they could have been as much the victims as those in Tiananmen Square. So we refused."
He was summoned to Downing Street to explain himself to the Prime Minister.
"I put it to Mrs Thatcher, 'what authority have you got to do this in Derbyshire?' There was an admission there was no authority. I said tell me your authority and I'll comply with the law. So the issue was keep within the law and you can do virtually anything you like."
Biggest political achievements
He played a key role in persuading the Japanese carmaker Toyota to build its European production centre in Derbyshire. But he believes his biggest achievement was banning the use of the cane in the county's schools.
"Think about it. It was common practice in this country to educate children by beating them. How sick can you get? There was a campaign against us, regrettably led by the teachers at the time and many school governors. I became obsessed in making sure we didn't have the cane. It's against civilisation."
Under his leadership, Derbyshire set the pace for animal welfare. It banned the use of live animals from travelling circuses.
He courted further controversy in forcing the removal of the county's chief constable Alf Parrish, who faced allegations of misusing public funds to install an executive bathroom suite in his police HQ office. Eventually the Home Office intervened and Alf Parrish took early retirement.
Then as now, the issue highlighted how much control elected politicians should have over the police. So what does David Bookbinder think of the Coalition's enthusiasm for elected county police commissioners?
"I don't believe in directed-elected police commissioners. Chief constables need to be accountable to the community they serve and they should be accountable to an elected body," he says.
Labour - lesser of the political evils?
David Bookbinder joined the Labour Party when he was 15, but fell out with New Labour and Tony Blair in particular over the Iraq war. So does he warm to the new leadership of Ed Miliband? Perhaps not.
"I'm still hurt and shamed by the Labour Party. Now I see the Labour Party as the lesser of all evils. I can't vote for evil," he adds.
"I feel the Labour Party has more of an apology to make. They have to change policies. They supported going into Iraq, and now they're supporting a dangerous situation against Gaddafi. So what's really different?"
At 70, does David Bookbinder still have faith in politics?
"Yes, I do. Because without it, things would be much worse. At least there is an accountability there. My worry about politicians is that they get into power and they hand it over to the bureaucrats. They don't do what they were elected to do. No wonder people get disillusioned."
David Bookbinder's grand passions these days are to talk about football and his beloved Manchester City. Does he miss front-line politics?
Of course, he does... and certainly local politics misses that unique Bookbinder style.