Reading child's fatal holiday balcony fall 'accidental'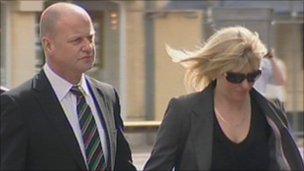 A father has told an inquest about the moment he saw his toddler son trying to cling on to a balcony before falling to his death while on holiday.
Brad Kremer, of Tidmarsh, near Reading, Berkshire, fell at the Chia Laguna Resort in Sardinia in August 2009.
Richard Kremer said he believed Brad fell through an "unsafe" gap in the balcony when he was distracted for a moment by his other son.
Berkshire coroner Peter Bedford recorded a verdict of accidental death.
The inquest, in Newbury, heard the family had only just arrived at the resort when the accident happened.
Mr Bedford described having to grapple with the Sardinian authorities for even basic information surrounding the case as "extremely frustrating".
He noted how the Sardinian authorities believed Brad had climbed over the railings, something his parents always denied was possible.
Mr Kremer and his wife Stacey insist Brad fell through an unsafe gap in the railings - and Mr Bedford accepted this was more likely.
In recording his verdict, Mr Bedford said Brad's death reflected the "excitement of being newly-arrived on holiday and the inevitable exploration and curiosity of a young child".
It was "an awful and tragic accident", he said.
In a statement read out after the inquest, Mr and Mrs Kremer said: "Every day for us is as difficult as the one before and our heartache does not get any easier.
"Any parent who has lost a child will understand there is a void that can never be filled.
"We would also like to thank those many kind people who we had never met who took time to send such heartfelt messages following Brad's tragic death.
"We will not let our son's name be forgotten and we will not let his death be in vain."
Related Internet Links
The BBC is not responsible for the content of external sites.