Great Central Railway plans to bridge £15m funding gap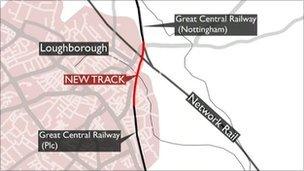 "We will be successful there is no doubt about that," said rail enthusiast Bill Ford. "There are alternative plans to raise that money."
A £15m project to join two sections of track between Nottingham and Leicester fell at a hurdle earlier this week when it failed to get £2.5m from the Regional Enterprise Fund.
The Great Central Railway reunification project hopes to create a 17-mile (27.3km) long heritage and freight railway.
To do so, the project needs to reconstruct 1640ft (500m) of track, build a new bridge over Network Rail's four-track main line at Loughborough and refurbish several other bridges including one over the A60.
It has been the dream of East Midlands rail enthusiasts for over 30 years. The recent knock back has not dented their plans.
"Rather than waste them, have them cut up for scrap, they recognised our need for them, for a marvellous project which they want to support," said Great Central Railway's Richard Patching.
The two 70ft (21m) steel structures will replace the aging railway bridge over the A60.
It is hoped that work to put the two bridges in place could start late this year.
The company GCR Development Ltd was created to raise the £15m needed for the project.
Chairman Nigel Harris said: "The reunited GCR can bring major economic benefits to Loughborough, the wider East Midlands and indeed the national economy."
The National Railway Museum has expressed an interest in moving trains to Loughborough if the gap can be bridged.
"There are lots more options for a really worthwhile relationship. Reunify those two halves of the railway and then I think we're into some serious talking," said Steve Davies from the museum.
The two existing Great Central Railway sections have been operating as independent tourist attractions for 30 years in Leicestershire and Nottinghamshire.
Services are pulled by heritage steam and diesel locomotives.
Related Internet Links
The BBC is not responsible for the content of external sites.