Hepatitis C patients to be re-tested for active virus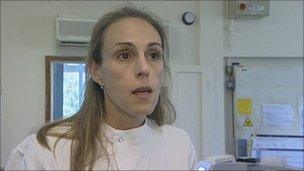 Almost 700 Hepatitis C patients who were told they did not have the active form of the virus are being told their test results may be wrong.
The patients are primarily from Bristol, Bath, South Gloucestershire, North East Somerset and North Somerset.
The Health Protection Agency (HPA) is recalling patients tested for active Hepatitis C between January 2009 and May 2010 as a precaution.
Nine out of 10 tests are thought to have been accurate, the HPA said.
Dr Isabel Oliver, director of the HPA South West, said: "We weren't entirely happy with the performance of our tests for active Hepatitis C infection.
"Unfortunately in just a small per cent of cases, just under 10%, it may have given inaccurate negative results."
After May 2010 a new, more accurate, test for the active form of the virus was being used in the HPA's Bristol laboratory.
The tests were for patients already diagnosed with Hepatitis C to determine whether the infection was active.
"We have written to their GPs and we would like to offer them the opportunity of another test which, for the majority of patients, will just be reassurance," Dr Oliver said.
"In a small number of people who may have had an inaccurate, negative result the opportunity of having another test might mean that if they require treatment, they could be assessed and referred for specialist treatment."
Related Internet Links
The BBC is not responsible for the content of external sites.