Devon and Cornwall investigator cuts plans criticised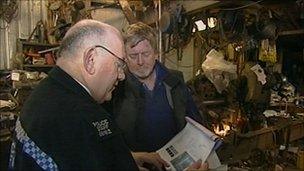 Plans by Devon and Cornwall Police to cut 70 civilian crime investigators have been criticised.
If made redundant, they would be among up to 500 civilian support posts being lost as the force cuts its budget by £47m over four years.
They take on routine tasks during cases to free up detectives to deal with more serious work and allow police officers to be on the beat.
Unions called the plan disastrous. The force said no decisions had been made.
'Flabbergasting' decision
They civilian crime investigators carry out tasks such organising inquiries, taking statements and interviewing witnesses.
They work mostly on crimes such as theft, burglary and assault, but are sometimes called to work on the most serious, including rape and murder.
Kevin Norman, regional organiser of the GMB union, said he was "flabbergasted" that Chief Constable Stephen Otter agreed to such cuts being put forward.
He said: "They have extraordinary skills that they bring to the job. Most of them are ex-police officers."
The force said such a move was "a proposal", although Wendy Bonfield, who is based in Newquay, said they were told it was a "firm proposal".
She said: "We've been told that we're to be given our redundancies in the middle of June.
"We had been given two weeks to come up with proposals to try and save our jobs.
"But yesterday we were just told it would take too long for these things to be looked at."
The force said it was "undertaking a review of all posts and functions as it looks to make these financial savings while maintaining a high-level police service".
It said a formal 90-day consultation process regarding some staff posts began in March.
It added: "We recognise the valuable and high-level work all our staff carry out and this proposal has not been put forward without considerable thought."
Meanwhile, some force clerical staff have received letters telling them they will lose their jobs in six months' time.
The force is also to lose up to 700 police officers.
Related Internet Links
The BBC is not responsible for the content of external sites.