Shot submarine officer Ian Molyneux 'devoted father'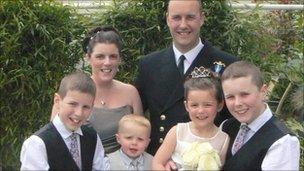 The widow of the Royal Navy officer shot dead on board nuclear submarine HMS Astute has spoken for the first time about the man behind the uniform.
Lt Cdr Ian Molyneux, of Wigan, Greater Manchester, was shot dead on 8 April while the vessel was docked in Southampton.
His widow, Gillian, said the 36-year-old was devoted to his four children.
Able Seaman Ryan Samuel Donovan, 22, of Dartford, Kent, is charged with murder and three counts of attempted murder.
Mrs Molyneux told the BBC her husband of 10 years was "a strong person" who was "very professional" in his job.
But she said his life revolved around his children, Jamie, Arron, Bethany, and Charlie.
"He had much pride to be serving with the Royal Navy and to be a submariner," she said.
"But with us here he was strong but in a gentle way.
"He was totally devoted to his children and his life here revolved around them.
"Because leaving us at home was a huge sacrifice for him as well as us, and to be able to do that, to be able to walk away from your family and your children knowing that you're not going to see them for weeks, speak to them or hear from them, takes some going."
Up until he joined the crew on board HMS Astute, Lt Cdr Molyneux - who was in charge of the vessel's missiles - coached Shevington Sharks under-12s rugby league team, which he had started from scratch.
"He was immensely proud of them, he used to call them his boys and that was his contribution back here at home and it meant the world to him," Mrs Molyneux said.
Since news of her husband's death, Mrs Molyneux said she had been overwhelmed with messages of support.
"Every message to me has kind of given me a little bit of my husband back and it has supported my children immensely as well, to know that so many people felt so highly of Ian and regarded him with such respect, but such love.
"I honestly don't think he really knew that, just how well he was respected.
"(He was) very humble, very modest.
"That was part of the reason why he wanted to be a submariner, because he wanted to fight for his country but be anonymous."
Related Internet Links
The BBC is not responsible for the content of external sites.