Lib Dem Warren Bradley's e-mail to Nick Clegg on election prospects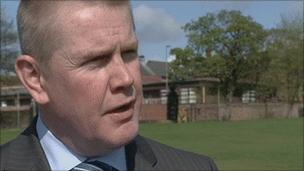 Mr Bradley, who was council leader for six years, is scathing about the coalition and predicts big losses for the party in May's elections.
The e-mail from Warren Bradley to Nick Clegg is reproduced in full below:
Date: Sat, 9 Apr 2011 11:52:46
Subject: LABOUR'S SURGE IN THE NORTH
Dear Nick and the Parliamentarians,
I have to date kept my frustrations and criticisms based on policy rather than just having a go because I don't want to be in bed with the Tories; unfortunately the boil is about to come to a head and burst (probably on election night) when we lose some very well respected and experienced colleagues from Liverpool City Council.
The Labour and Trade Union movement are saturating the streets of Liverpool, even in our heartlands.
Liberalism started in Liverpool (Church Ward) during the late 60's with Sir Trevor Jones and Cyril Carr being the driving force; a ward we have held for many years through thick and thin, sadly this year, because of your actions in Coalition Government, this may not be the case. Never before in 35+ years have I seen the streets of Wavertree snooing with Labour activists, never before have I seen Labour posters in a local election.
This is only down to the policies that our Parliamentarians are pursuing in Coalition Government.
The position is untenable, Mike Storey having given many decades to the party is extremely vulnerable, and could well fall because of the Parliamentary party.
Many other long serving Councillors could be defeated not because of their record, but because of your record and the perception of what we as Liberal Democrats now are.
I only hope on the 6th May, you will meet with Leaders/Groups/ordinary members and seek their views following a set of results, which if mirrored by our canvass returns will place us back 40 years.
I and many of my colleagues in Liverpool and the North are tired of defending the indefensible, as a party we have to reconsider what and who we are before we disappear into the annuls of history as a political party who promised so much hope, yet failed because they wanted control and power.
This is not a moan because I want to be someone, I deeply care about the party I have campaigned for since its inception, as I did for the Liberals before when I was a little boy, as did both my parents and virtually all my family; Liverpool and the North needs and deserves an alternative to Labour, but at present, after knocking on many doors, all I feel is dejection and upset that the Lib Dems, the party the people trusted implicitly have become like the others and deserted their followers.
I hope you take this in the spirit it is meant, liberal principles have to shine through, we have to be independent and we have to sever ties from the coalition; if we fail to do this, we have only our Parliamentarians to blame.
Leader of the Liberal Democrats