Florida shooting: Boy faces UK tourists murder charge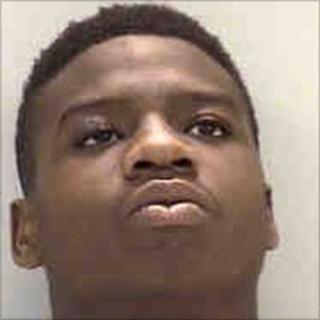 Prosecutors in the US have said they intend to charge a 16-year-old boy with the murders of two British tourists who were shot dead in Florida.
The bodies of university friends James Kouzaris, 24, from Northampton, and James Cooper, 25, of Warwick, were found in Sarasota early on Saturday.
Both men had been shot several times, the BBC understands.
Prosecutors said Shawn Tyson would be charged as an adult.
Police investigating the murders have released photos that Mr Kouzaris and Mr Cooper took of themselves while out drinking on the night they were killed.
CCTV images
The photos were taken in bars in downtown Sarasota.
CCTV images taken of the men in a bar have also been released by detectives who want to speak to witnesses who may know more about the victims' movements.
Detectives believe the pair may have been given a lift to the Newtown area of Sarasota by someone they had befriended, or they may have walked there, or hired a cab which police had not yet traced.
They had been staying about 12 miles away on the island city of Longboat Key with Mr Cooper's parents, Sandra and Stanley, who have now returned to the UK to their home in Hampton Lucy, Warwickshire.
No murder weapon has yet been found but both men, ex-Sheffield University students, were shot a number of times, the BBC understands.
BBC Washington reporter Steve Kingstone said, contrary to some reports, no bullet casings were found at the scene.
Mr Kouzaris and Mr Cooper were found lying about 50ft apart near a housing estate.
The two Britons were not carrying drugs and there is no evidence they were drug users, police said.
Sarasota Police Captain Paul Sutton said: "It is very unusual to find tourists or visitors in this area. It is a residential neighbourhood with no shops and no bars. We do not know what brought them here at 3am."
Sarasota Police said the murder suspect had previously been arrested for allegedly firing shots into a car on 7 April.
Officers said there was no known link between the holidaymakers and the boy.
Under US legal procedures he has not been formally charged. The evidence is expected to be heard by a grand jury on 3 May.