Family tribute to fire chief killed at Cotswold Airport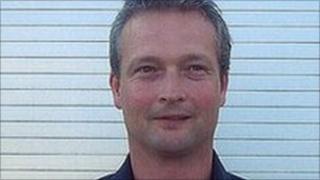 The family of a man who was killed in an industrial incident at Cotswold Airport have paid tribute, describing him as "a loving family man".
Airport fire services manager Steven Mills, 45, from Malmesbury in Wiltshire, died on 8 April.
His sister Helen Dyer said it had "left a massive hole in their lives" and said he was "an amazing big brother, loving son and devoted to his little boy".
An investigation by the Health and Safety Executive has started.
'Always smiling'
Speaking on behalf of Mr Mills' family, Ms Dyer added: "Steven's death has left us all devastated and it's difficult to express the sense of loss we feel.
"He was such a funny, kind, giving and caring man, who was always smiling and had a twinkle in his eye.
"He also loved his work at the airport. He did many things in his life and had many interests, but the fire service was a longstanding passion."
A Health and Safety Executive spokesman said last week that the incident was believed to have involved a decompressed gas canister.
Mr Mills' funeral will be held at Malmesbury Abbey on 28 April at 1400 BST.