Royal wedding: Alternative ways to party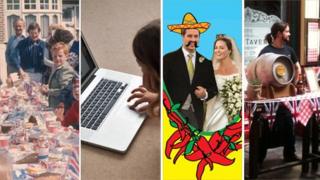 Union jack-waving, balloons and jelly and ice cream are to feature at hundreds of royal wedding parties - but many organisers are planning a break with tradition to mark Prince William's 21st Century nuptials.
An estimated two million people will take part in street parties rather than the 10 million seen at the Silver Jubilee in 1977 - and many events on 29 April will take an alternative or modern twist.
In London, which has the highest proportion of single people in the country, some events will bring strangers together to celebrate the royal wedding.
Butterfly Social, which runs singles and social events in the capital, has organised one of the few street parties to be held within the city centre.
Jenni Regan, founder of the group, said the event at Leadenhall Market, was aiming for something "a little more cutting edge" than the traditional street party.
"There are a lot of young, single Londoners and some may be far from home, but for this party they don't have to be part of any particular community," she said.
Wedding dress guests
"They are not meeting their neighbours, but are meeting lots of Londoners from the much wider community."
The royal wedding will be shown on a big screen at the event, which will include alternative wedding speeches by comedians and a sweepstake on what royal family members will be wearing.
Mrs Regan said the adults-only party outside the Lamb Tavern will include a "cheesy disco" with a "Bitter and Twisted DJ" playing lovelorn songs such as What Have You Done For Me Lately and Love Will Tear Us Apart.
"But it's a tongue-in-cheek celebration rather than putting a downer on proceedings, it's just a bit of a laugh," she added.
About 60 people are expected at the pre-ticketed event, but she added anyone who turned up wearing a wedding dress could get in for free.
At another unusual event, punters at an east London pub will be taken back to the 18th Century when part of the area fell outside the control of church parishes, which led to "associations with debauchery".
Organiser Hayley Wright said the event would give people a glimpse of the "general lawlessness" of the area, known as Liberty of Norton Folgate, which conducted its own affairs for 200 years.
She said: "People hid traitors and criminals and it was a place police wouldn't go to. It was known for its lawlessness and petty crime."
Costume-clad hosts at The Water Poet in Spitalfields will serve mead and gin, while a music hall act entertains and actors perform famous wedding film scenes.
The event, which is part of the East End Film Festival, will also screen archive footage of street parties from the end of World War I to the present.
Ms Wright added that word about the party was spread on social networking sites, but the footage would show younger generations "how communities used to come together".
Meanwhile in Gunthorpe, near Nottingham, about 40 people will be marking the event at a Mexican-themed "pop-up restaurant".
Beth Marriott, a family support worker, runs events as part of the city's Underground Restaurant scene, where people go to dinner parties, usually at homes or in community areas, after being emailed venue details days before.
She said: "So much stuff is getting closed down in Nottingham and I think people are disenchanted at going to chain restaurants, so this is something different."
Ms Marriott said the dinner party would be attended by her friends and their friends and most were "not that interested" in the royal wedding but thought it was a good reason to meet up.
Community spirit
She was originally going to have a punk-themed event but decided a Mexican night would be more inclusive. Diners will be served a Mexican wedding cake and be entertained by performance artists and musicians.
While many people see the wedding and extra bank holiday as a good excuse to throw a party, some events have been organised for people who want to avoid the pageantry.
The Alternative Royal Wedding Party at Bristol's Trinity Centre will feature an indoor picnic, hoola-hoop party, mock wedding ceremonies and workshops in toy and quilt making.
Centre manager Emma Harvey said there would be lots of activities, but watching the royal wedding would not be among them.
"The message is not anti- or pro-royal. It's just that we are not that interested in it and it's not a priority for the communities that we serve," she said.
She said the main aim was to bring people together and encourage them to be proactive in their communities.
Chris Gittins, founder of Streets Alive, said some modern parties, particularly those arranged through internet forums, tended to attract people with similar interests and may not have the different ages and backgrounds seen at a traditional street party.
He said: "What's so incredible about a street party is its diversity. It brings together all sorts of people who would never be likely to meet and it means a lot more people will know their neighbours the next day."