Dry weather prompts STWA to issue water use warning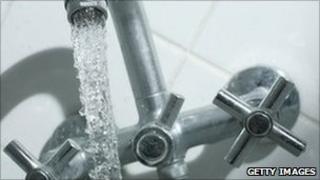 Water company Severn Trent has urged its customers to be sensible with their water use during the dry weather spell.
The firm said although its reservoir levels were below where they would normally be at this time of year, they were still above its target levels.
The company said the cold winter had also caused reduced water levels.
David Essex, water strategy manager at Severn Trent, said: "We're not anticipating any problems but we are keeping a close eye on the weather."
'Big challenges'
"[The weather] has certainly thrown some big challenges at us.
"Last year was a very dry summer and then we had the coldest winter on record with lots of burst pipes and now it looks that we're going into another dry year again.
"Across the region our reservoir levels are just under 90% full, which is slightly below what we would expect for this time of year, but not much.
"So of course we are encouraging people to be sensible with their water use, particularly over the coming weeks."
Severn Trent serves more than eight million customers from the Bristol Channel to the Humber, and from mid-Wales to the East Midlands.