Florida shooting victim's parents remember 'gentle boy'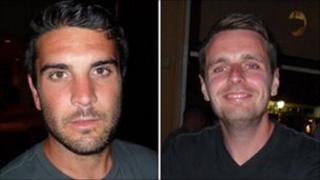 The parents of one of two English men shot dead on holiday in the US have said their lives have been "shattered".
The bodies of university friends James Kouzaris, 24, from Northampton, and James Cooper, 25, of Warwick, were found in Sarasota, Florida on Saturday.
Mr Cooper's parents said their son was "gentle, kind, compassionate, clever and an athlete".
US police are appealing for information and have released audio of the 911 call reporting the fatal shooting.
The caller, who was unsure of their exact location, told the operator that a white man was covered in blood and lying on the ground.
"He's just laying on the ground, I think he's dead ma'am. I don't know we just rolled through here," the caller said.
A 16-year-old has been arrested over the killings and prosecutors in Florida said they intended to charge the boy, Shawn Tyson, as an adult.
Sarasota Police Capt Paul Sutton told CNN on Tuesday that British media reports had sensationalised the deaths.
He said: "This is the first murder that has occurred in the city of Sarasota this year."
The two British tourists had been on holiday with Mr Cooper's parents Stanley and Sandra, from Hampton Lucy, near Warwick.
They said: "As parents, our lives have been shattered, but through us and his friends and family he will live on."
Their son once worked as a tennis coach in Warwickshire and played Andy Murray in a junior tournament.
Mr and Mrs Cooper were staying in Longboat Key, about 12 miles from where their son and his friend were killed.
Detectives in Florida have released CCTV pictures of the two men, both former Sheffield University students, in a Sarasota bar hours before they were killed.
They are also following up a number of leads from photographs which were recovered from one of their cameras.
The friends were in a bar called Smokin' Joes during the early hours and are shown talking to two women.
Police said that revellers in the pictures were not suspects but said they would like to speak to them to learn more details about the men's activities.
The pair were killed in the Newtown area about 90 minutes after the CCTV was taken.
Mr Kouzaris and Mr Cooper were found lying about 50ft apart near a housing estate.
They were not carrying drugs and there is no evidence they were drug users, police said.
Capt Paul Sutton, from Sarasota Police, said: "It is very unusual to find tourists or visitors in this area. It is a residential neighbourhood with no shops and no bars. We do not know what brought them here at 3am."