Rio Ferdinand's stalker Susanne Ibru insults judge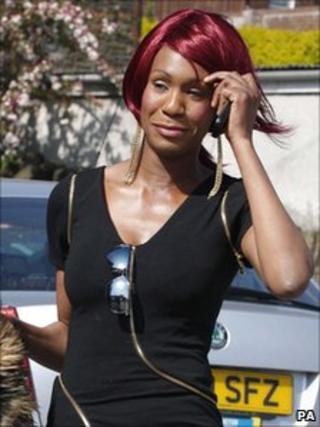 A woman convicted of harassing England footballer Rio Ferdinand has told a judge: "You need your head examined."
Susanne Ibru, 38, insulted District Judge Nicholas Sanders as he remanded her in custody at a bail hearing at Crewe Magistrates' Court.
The judge had told her he had "no confidence" the three bail addresses she gave were genuine.
She was convicted on Monday of harassing the Manchester United and England star and his family.
"Until sentence is passed and a restraining order is made, we have to rely on bail conditions to protect Mr Ferdinand and his family," Judge Sanders said.
As she was led away to the cells Ibru told him: "You need your head examined, seriously, no doubt about that."
Walked out
Ibru was living in Peckham, south London, when she made 400-mile round trips to stand outside Ferdinand's home in Alderley Edge, Cheshire, on three occasions in 2010.
During her trial, the 32-year-old footballer told the court how Ibru left him fearing for his family's safety by turning up at his home and demanding to speak to him.
Ibru, who represented herself, left court after being told she could not cross-examine Ferdinand's wife, Rebecca, who had just given birth to the couple's third child.
She was convicted in her absence and a warrant was issued for her arrest. Officers arrested her the following day in Warrington and she has been in custody ever since.
Judge Sanders told her: "I have no confidence in any of the addresses put forward.
"I have no confidence that you are going to abide by your bail conditions and there is a substantial risk that you will fail to surrender."
She will return to the court for sentencing on 9 May.