How to organise a royal wedding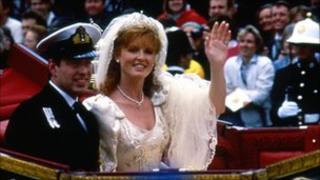 Organising a wedding can be a stressful time for anybody but what if you knew that two billion people could be watching on the big day?
Alexandra Messervy knows exactly what it takes to arrange a royal wedding. In 1986 she helped to organise Prince Andrew's wedding to Sarah Ferguson, now the Duchess of York.
Working for the assistant master of the household to the Queen, Ms Messervy was responsible for organising the non-ceremonial part of the wedding.
This proved to be a frantic time as royal engagements traditionally only last a few months.
"As soon as the engagement was announced, the wheels spun into action and all leave was cancelled," says Ms Messervy, who now runs an etiquette business, the English Manner, in Taunton.
The wedding planning is divided up with the Lord Chamberlain's office looking after the ceremony, including guest lists and invitations, while the royal household is responsible for the reception.
Luckily for staff, the rich history of the Royal Family means there is a template of sorts for them to follow.
"There are things that everyone knows they have to do and the system works because it's been tried and tested, says Ms Messervy.
"With something like a wedding it has to have a personal element as well, but you must remember the Queen has been on the throne for a long time; the Royal Family has been going for a long time; and so everything pretty much is steeped in tradition."
The bride and groom are consulted. However, different royal couples have different wishes and different degrees of involvement.
During the planning of his wedding, Prince Andrew was away a lot serving in the armed forces but Sarah Ferguson was "fairly involved as any bride is".
The moment their engagement was announced, the royal household was flooded with offers of help for all sorts of things but primarily catering for the occasion. Ms Messervy says she was "stunned" at how many people offered to make the wedding cake.
"People had included pictures of their designs for cakes they'd already made. The standard was incredible."
The household decided to hold a competition where they had 100 cakes on display at the reception. Afterwards they were given to local hospices, as were the thousands of flowers which adorned Westminster Abbey and Buckingham Palace.
"It was really lovely, the number of people who wanted to be involved and I suppose when you think about it, it's the same thing as people standing on the side of the streets waving their bunting and flags," Ms Messervy recalls.
As the countdown clock for Prince William and Kate Middleton's wedding enters its final 60 hours, staff at Buckingham Palace, which will hold a buffet and a sit-down meal, will be working furiously.
"[T]he pages, footmen and stewards - will be polishing and dusting all the wonderful china, silver gilt and glassware. Housemaids and housekeepers will be working like mad to make sure everything is absolutely clean and pristine and sparkling."
And the day itself will be non-stop for staff. They'll be lucky to be in bed before 0300 on Saturday.
'Out of the ordinary'
Prince William and his bride-to-be Kate Middleton have made one major departure from the usual royal wedding in their decision to hold an evening celebration, notes Ms Messervy.
"The traditional thing to do is to have the ceremony in the morning and then have the wedding breakfast and reception at Buckingham Palace.
"The royal couple normally depart at 4pm and go off on honeymoon but on this occasion they are going to have an evening dinner and dance which is of course a new twist.
"We live in modern times and it's become a popular thing over the last few years for everyone to have. It's a nice way to split the day and it can entertain more people as well."
Once it is all over and the confetti has fallen, the staff will be able to relax and take in the importance of the day says Ms Messervy.
"As anyone who has a job that's slightly out of the ordinary, you look back and realise that at the time you don't realise how exciting or special it is."