Queen gives organist Les Hedges Maundy Money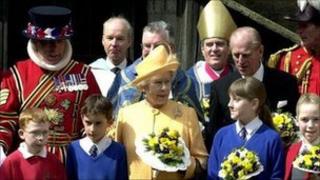 A 78-year-old organist who plays at churches in Berkshire and Oxfordshire has been chosen to receive Maundy Money from The Queen.
Les Hedges, from Fawley in Berkshire, will be honoured at Westminster Abbey later for 62 years of service to the church.
The traditional ceremony will see The Queen give a purse of silver coins to elderly recipients.
Mr Hedges said: "It was a complete surprise, a shock really."
The Maundy Money ceremony is thought to date back to an event held by King John in Knaresborough, North Yorkshire, in 1210.
The monarch would give out money and symbolically wash the feet of the poor as Jesus is said to have done at the Last Supper.
Although that part of the ceremony ended in the 18th Century Mr Hedges will still receive silver pennies in a small silk bag.
The value of the coins he gets will equal The Queen's age, as does the number of recipients to get the pennies - Her Majesty is 85 on Thursday.
Mr Hedges began playing the organ when he was 16 and would often play three or four services every Sunday.
He said: "I've never had an organ lesson in my life but I was just a natural on it.
"I just love music, it's always been a part of my life. I suppose it was a calling."
Mr Hedges was nominated by his local vicar, the Reverend John Townend.
Mr Townend said: "He just never lets us down, he's just always there and is always cheerful."
The first Mr Hedges knew about the reward was when he received a letter from Buckingham Palace asking him to accept the honour.
"I don't know what to say really because I've never thought I was a brilliant organist but I've always done my best and people have had so much enjoyment from my playing, I still get compliments now," he said.