Engelbert Humperdinck sings praises for mayoral candidate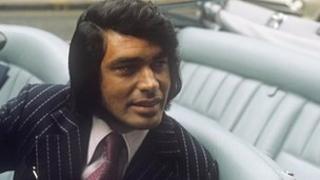 Engelbert Humperdinck is better known for his soothing ballads than electioneering. But the King of Romance has unexpectedly entered the mayoral race in Leicester by urging voters to back an old friend, who's a candidate.
He's businessman, city magistrate and the president of the Leicestershire Chamber of Commerce Rick Moore, who is standing as an independent and one of 11 candidates.
But why would a singing legend - now living in the Californian sunshine of Bel Air - indulge in a touch of celebrity politics?
Humperdinck says he's proud to endorse a candidate who was raised - like him - in the same area of Highfields in inner city Leicester.
Celebrity backing
That high profile endorsement has certainly created a buzz and excitement around the campaign.
"I've known Rick for a long time and I think he would be good for my city," Engelbert told me from California.
"I don't get involved in politics but this is about Leicester and it's important."
His intervention is a further indication that Leicester's mayoral race is fast overshadowing another equally important election in the city. And that's the parliamentary by-election in Leicester South.
Leicester South by-election
When the Labour leader Ed Miliband was campaigning in the constituency this week, the party's mayoral candidate Sir Peter Soulsby was nowhere in sight.
Was this a snub by the former sitting MP? Apparently not. Labour officials just wanted their parliamentary candidate in Leicester South to get at least some media coverage.
It was Sir Peter's decision to run in the race to become Leicester's first directly-elected mayor that created the parliamentary vacancy in Leicester South.
But the by-election has yet to create the same level of excitement as the mayoral contest. Maybe a lack of controversy in a by-election campaign is a party manager's dream, but there's concern about a low turn-out.
By-election delivery?
Labour's parliamentary candidate Jon Ashworth can also be forgiven for being rather distracted at present. His partner Emilie is expecting their first child a few days after the election.
He's already anxious about what to do if Emilie goes into Labour a few days early.
At least the Leicester Royal Infirmary is opposite the location of the count.
"I may end up being the first winning candidate to be absent from my own election count because of an urgent call to the maternity unit," he admitted to me.
You can imagine the headline writers having a field day with that one: "By-election delivery in Labour ward". You know the sort of thing...
Lib Dem hopes
The Liberal Democrats won Leicester South in a sensational by-election victory six years ago. Then the Blair government's invasion of Iraq was a huge issue in a constituency where the Muslim population is 21% of the electorate.
The Lib Dems remain the main challengers to Labour. Nick Clegg has been campaigning in Leicester South, although he has yet to visit the city's De Montfort University.
It was here during last year's General Election that he made his pledge to students to scrap tuition fees if the Lib Dems got into power. The rest, they say, is history.
The Conservative candidate is Jane Hunt, a councillor from the Leicestershire borough of Charnwood. She now knows the city better than most: in the General Election, Jane took on Keith Vaz in neighbouring Leicester East.
But in this by-election, Tory big-hitters have been noticeably absent.
Maybe that's another reason why this parliamentary by-election has yet to take off.
List of candidates for Leicester South
Jon Ashworth - Labour
Zuffar Haq - Liberal Democrat
Howling Laud Hope - Monster Raving Loony William Hill Party
Jane Hunt - Conservative Party
Abhijit Pandya - UK Independence Party