Petitioners approve Falmouth harbour dredging plans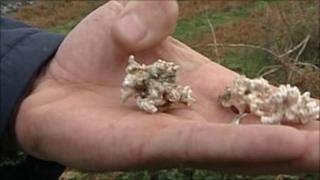 More than 1,000 people have signed a petition backing a £20m plan to dredge the entrance to Falmouth harbour to encourage cruise ships to use the port.
The controversial plans were blocked by the EU over fears for the maerl [algae] beds earlier in the year.
Petition creator, former dockyard employee Frank Eva said it would bring many benefits to the region.
The government's Marine Management Organisation said it welcomed revised plans that would not damage the algae.
Mr Eva said: "It'll be the making of the shipyard, of Falmouth and of the South West."
Falmouth's harbour commissioners said dredging was needed so bigger ships could use the port.
Chairman Dave Ellis said the biggest issue was the maerl beds.
"We are going to touch less than 2% and all of the maerl will be lifted and re-laid at the end of the dredge, so there will be no reduction," he said.
The Marine Management Organisation said: "We've invited the developers to come back with new proposals that address the environmental issues.
"We want to ensure the protection of the ancient and rare maerl beds - considered a non-renewable resource that cannot be lost."