Birmingham doctor invents GP surgery league table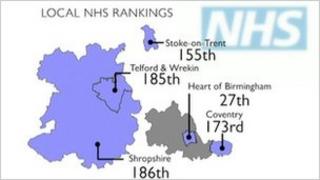 A Birmingham doctor has invented a league table so that patients can check up on their own GP.
Dr Andrew Rouse, a public health consultant, has released the data after five years of analysis.
Each GP surgery has to submit a return each year called the Quality Outcomes Framework (QOF).
The QOF looks at the surgery's response to a wide range of chronic illnesses like diabetes, heart disease, stroke and epilepsy.
'Wide variation'
Dr Rouse has taken this data, which is freely available, for 62 QOFs and calculated the average. Each surgery is given a point for each time it performs better than average so it can score a maximum of 62 points.
Although he accepts that it is a relatively crude tool, Dr Rouse believes there is a need to develop ways of measuring GPs' performance.
He said: "It is apparent that there is a wide variation of care between practices.
"We acknowledge that other services like hotels and restaurants and schools need an appraisal system. I am just saying that this is an embryonic system for general practice."
The three Birmingham primary care trusts are in the early stage of using it as an early warning indicator.
Acting chief executive Dr Jacky Chambers said that although there was some concern that the range of scores between some GP indicators was too narrow to distinguish good and bad practice, the tool might be useful as an early warning which with more in-depth investigations could help root out poor practice.
Dr Rouse's research indicates that some inner city areas perform surprisingly well. Small practices and single handed doctors seem to perform better than larger ones.
Dr Amarjit Verma, a single handed GP in Cannock, scored 49 points.
Dr Verma puts his success down to knowing his patients personally
"We know and understand our patients and we get them to understand their disease so that they are in charge of their own destiny," he said.
With practices in Telford and Newport in Shropshire, Linden Hall surgery scored just five points.
Dr Stefan Waldendorf said that the practice had worked with its primary care trust and the next set of results will be much better.
'Drive up standards'
The report also reveals wide variations between different NHS areas.
Of 192 areas of the UK, Heart of Birmingham was the best placed in the West Midlands in 21st place, Stoke-on-Trent was 155th, Dudley 158th, Coventry 173rd, and Telford and Wrekin 185th.
NHS Telford and Wrekin said in a statement: "Dr Rouse's report does not use the national method in calculating the performance of GPs.
"However, that being said, NHS Telford and Wrekin's board will actively look at both the report itself, the outcome of the peer review, as well as more current data on performance to assess what local action is required."
Dr Rouse has now created an online tool so patients can see how well their GP has performed.
He said he hoped it will help drive up standards.