Vulcan bomber goes on display at Robin Hood airport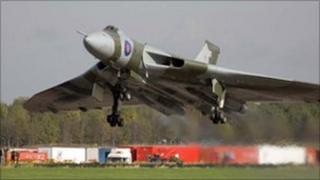 The iconic Vulcan aircraft has gone on display to the public at Robin Hood Airport Doncaster Sheffield.
The bomber operated out of the airport when it was RAF Finningley.
Enthusiasts raised enough money to save the world's last remaining flying Vulcan bomber just days before it was due to be grounded.
The plane will be on display from a viewing gallery until 2 May and visitors can also try the flying simulator.
'National treasure'
Mike Morton, of Robin Hood Airport Doncaster Sheffield, said: "For us it's all part of a fantastic atmosphere, a business that will allow members of the public, aviation enthusiasts to come into the airport and have a look."
The Vulcan to The Sky Trust, which owns the Avro Vulcan XH558, needed to raise £400,000 to keep the aircraft flying.
The restored Cold War bomber, described as a "national treasure", receives no government funding and was restored at Bruntingthrope in Leicestershire.
The Vulcan made its maiden flight in 1952 before acting as a deterrent during the Cold War and seeing active service in the Falklands War.
The last Vulcan was withdrawn from service in 1984, but the XH558 flew on from 1986 to 1993 as the single RAF display Vulcan.