South Central Ambulance Service to cut £30m from budget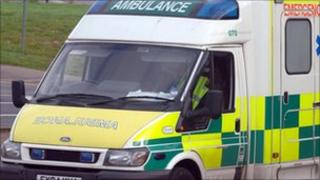 South Central Ambulance Service (SCAS) is set to make about £30m in budget savings, health chiefs have confirmed.
About £6m will be saved per annum over the next five years from the service which covers Hampshire, Oxfordshire, Berkshire and Buckinghamshire.
SCAS said it currently had no intention to make redundancies and was putting a savings plan together.
Trade unions APAP, Unite and Unison said they were "extremely concerned" and would be meeting with members.
SCAS, which has its headquarters in Bicester, Oxfordshire, said it would release more details in June.
'Bigger pressure'
A spokesman said it was continuing front-line recruitment to improve services for patients.
"We continue to look at ways to deliver services more efficiently so that we can protect our front-line services for patients and it is important to say that members of the public will not see any changes in the services they receive," he added.
Trade unions, APAP - the Association of Professional Ambulance Personnel - Unite and Unison have held meetings about the consultation paper.
Jonathan Fox, from the APAP, said there would be a "bigger impact" on front-line staff if vacancies were not filled due to natural wastage.
"If you look at South Central Ambulance Service, their call rates have been rising over the national average and they are around 10% a year and at the moment they are a very high performing trust," he added.
"It's very difficult to see how this is not going to impact when the trust is doing as well as it is because of the investment there has been over recent years.
"If you have fewer staff having to manage higher level of calls each year it is going to be more difficult to manage the demand on the service and the front line which will put higher expectation and bigger pressure on those we depend on most."