Ambulance service urged to suspend consultation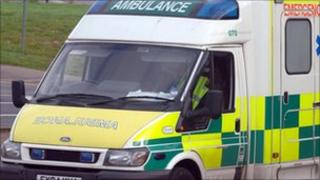 Trade unions have urged South Central Ambulance Service (SCAS) to suspend its staff consultation over budget cuts.
SCAS is set to make about £30m in budget savings but it said it had no intention to make redundancies.
About £6m will be saved per annum over the next five years from the service which covers Hampshire, Oxfordshire, Berkshire and Buckinghamshire.
Association of Professional Ambulance Personnel (APAP) said not enough information had been given to staff.
APAP met with Unite and Unison on Monday to discuss the consultation paper published by SCAS.
A spokesman for APAP said before staff could respond the trust would need to publish job descriptions of the new posts, the impact the cuts would have on staff roles and more details on the savings being made by the proposed changes.
'Strong concerns'
He said: "We believe that the consultation cannot be considered to have started due to the lack of details in the information published."
"We are asking the trust to suspend the consultation process until all of the required information is available to allow staff to respond in a meaningful way.
"South Central Ambulance Service is the number one clinical performing trust in the country due to the hard work and dedication of its staff and managers.
"We have strong concerns that the trust's current position will be compromised with this proposal, and this may have a detrimental impact on patient outcomes."
SCAS, which has its headquarters in Bicester, Oxfordshire, said it was putting a savings plan together and would not release any more details until the end of the internal consultation in June.
A spokesman said it was continuing front-line recruitment to improve services for patients.
"We continue to look at ways to deliver services more efficiently so that we can protect our front-line services for patients and it is important to say that members of the public will not see any changes in the services they receive," he added.